MathScore Users Rose from 45.2% Proficient to 83.3% Proficient
in an EETT Grant-funded Program in 2009
In Del Norte County, California, these results were achieved at Bess Maxwell School with their 4th and 5th graders. MathScore was used as a supplemental program approximately once per week. Although we've achieved significant test score increases at other schools in the past, even we were surprised by the degree that the MathScore students outperformed the control group at Bess Maxwell.
| | |
| --- | --- |
| These students used MathScore at least 6 hours in the 2008-2009 school year. Most of them used it for 10 or more hours. Notice the steep increase in Advanced students. Also, the entire Below Basic band of students all rose to Basic or better. | These students either didn't use MathScore at all, or used it for less than 6 hours. Notice the steep decrease in advanced students and overall decrease in proficiency, from 57% down to 40%. |
The graphs above were prepared by the external evaluator, Educational Support Systems
In this particular EETT grant study, particular attention was spent on quantifying the success of the overall program. The two graphs below were also prepared by the external evaluator, Educational Support Systems.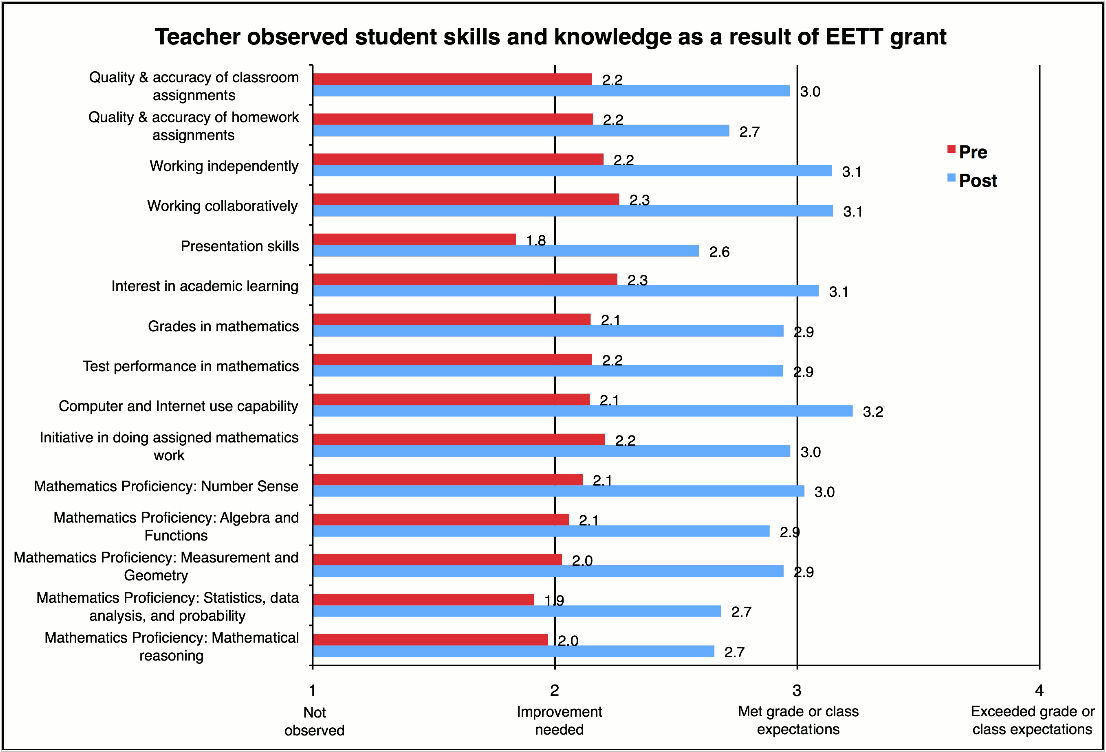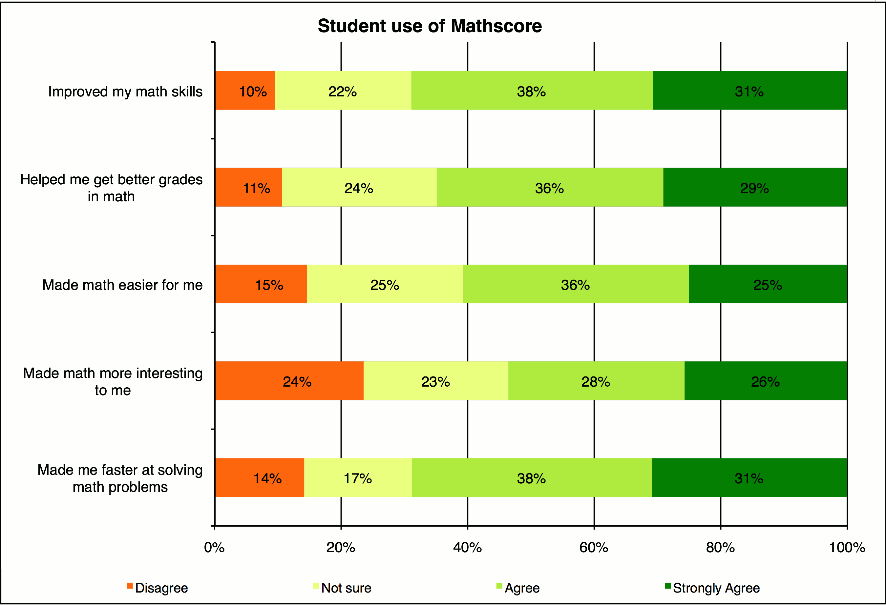 Sample of comments from participating students:
If you don't understand a problem MathScore could give you steps to help you solve the problem. This program has helped my classmates and me improve our math skills. Thank you for this wonderful opportunity we have had to use this math program.

I am improving in math very much and I can do and work out problems much quicker than how I used to before I did Mathscore. I am very happy and pleased that my classmates and I now have Mathscore at my school, Redwood Elementary School. I hope that next year I will be able to do much more Mathscore.

I am improving strongly in mathscore and regular math at home and I am getting quicker than before I did MathScore. I am liking math more now at Redwood Elementary School.

It helped me learn math and work at school can be fun online.

It helped me by typing faster and faster.

it is are helping me by improving my math grades.

It is easy to look up things. It is easy to do school assignments.

it help's me on my abc book and get better in math.

It would help on getting information on history. It would help in math.

Mathscore has helped me get better A's on math. It made math fun and easier to me. It has helped me understand stuff I never understood before and it helped me learn new stuff so I know what to do next year or when we learn it than it will be easier for me!

Computers and the Internet heaped me surf the Internet faster. Mathscore has made me understand that math is fun, easy, and understanding.

General Comments from teachers about student-reactions
Enjoy competing for higher "levels" in math score.

Improved skill with number sense.

Many of the kids really enjoy MathScore.

The students LOVE working on MathScore.

Students have seen improvements in themselves.

Increased enthusiasm and motivation as a result of EETT technology available.

Students who disliked math now LOVE math!

Examples of observed change in student learning shared by teachers:
Great interest and improvement in students' use of Mathscore. Individual adaptive aspect of program huge benefit to all students. LCD projector enabled me to utilize technological components of the math adoption providing another format for presentation of curriculum. Students use classroom computers for independent Mathscore sessions.

Students enjoy interacting with mathscore and competing with each other for the highest award.

Many students have increased their speed and accuracy with basic math facts.

Students were willing to go on the computer to do Math Score. They liked improving their rank and using the computer.

Use of technology allows my students to work at their ability level through mathscore. Also, the LCD projector turns my whiteboard into an interactive learning tool.

My students produced PowerPoint presentations in science using newly learned computer skills and the LCD projector.

Since I got an "ELMO" and a new lap top I am able to use my Harcourt School Publishers "Instructional Models" which really keeps the students interest in math!

Students are able to interact with mathematical concepts in new and interesting ways using technology, which has motivated them to challenge and extend their skills.

Students are eager to get onto Math Score. The Smart Board holds their attention & great for examples. Students are on the computers daily for both math & lang. arts activities. LCD projector is used daily - a real improvement over the overhead.

The students in my classroom all know the basic math facts. I do believe MathScore has helping in facilitating this. I also feel that using MathScore has helped my students become more comfortable with using the Internet. They have also become more independent.

My students are thrilled to practice mathematics skills and reinforce concepts using Mathscore and the classroom computers. Students have created power point presentations as a result of this grant as well.

The students who are low in math due to not knowing the multiplication chart quickly learn them. The numerous practice sheets in Mathscore really familiarize and made the students feel comfortable with math.

The full EETT report is available upon request.

---
MathScore Online Math Practice Homepage